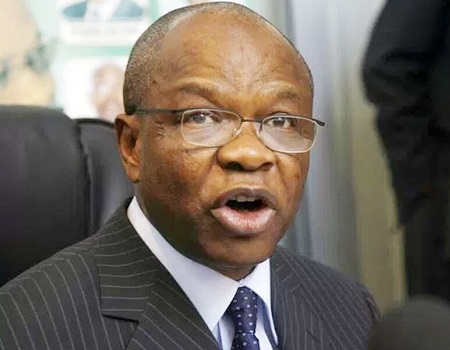 Pharmacognosy professor Prof Maurice Iwu said Nigeria should not be compared to other African countries, in traditional medicine, but rather to countries like India and China.
Iwu, said this Monday in Abuja, during his opening speech on the 2021 commemoration, African Traditional Medicine (ATM), hosted by the head of the Department of Traditional, Complementary and Alternative Medicine (TCAM), Federal Ministry of Health (FMOH).
Tribune Online reports that every August 31, the continent celebrates ATM Day to promote the important role of the continent's rich biodiversity in medicinal plants and herbs in enhancing well-being.
The World Health Organization (WHO) estimates that around 80 percent of the population of the African continent depends on traditional medicine for their basic health needs.
ATM involves soothsayers, midwives and herbalists. Diviners are responsible for determining the cause of the disease, which in some cases is believed to be from ancestral spirits and other influences.
Iwu said there were three essential elements of ATM, which the country possesses as the active medicinal substance, which he said can be plants, soil, insects or parts of it. 'animals.
"Spiritual forces, including benevolent forces, ancestors, gods and God; and
The human spirit which includes the healer and the patient himself, "he explained.
According to Iwu, the role of plants in TMJ is that plants are the main active ingredients of the remedies dispensed by male and female doctors, along with the auxiliary ingredients or excipients.
"Plants also perform other very important functions in the healing process. As a source of life energy, and in a sense a participatory entity, rather than a lifeless object used in healing. Traditional African medicine therefore presents an enigma for most trained Western minds, "he noted.
He also raised the issue of integrating ATM into the country's national health system. "Lack of effective communication between practitioners and patients; use of poor quality, falsified or counterfeit products; unqualified practitioners; misdiagnosis, late diagnosis, or inability to use effective conventional treatments when necessary.
"Among others was exposure to misleading or unreliable information; and direct adverse events, side effects or adverse therapeutic interactions.
Iwu also revealed that he had obtained approval from NAFDAC to conduct clinical trials with artemisinin.
"We have also obtained all the necessary ethical approvals. The primary objective is
observe and assess the safety of artemisinin and an herbal supplement in COVID-19 subjects.
"While the secondary objective is to observe and evaluate the effectiveness of artemisinin – an herbal supplement on COVID-19 subjects," he added.
Also speaking, former Acting Vice-Chancellor of Obafemi Awolowo University, Ile-Ife, Professor Anthony Elujoba, revealed that in an assessment by the West African Health Organization (WAHO), on the In terms of ATM institutionalization, Nigeria came second with 87 percent next to Ghana with 93 percent.
Elujobo, who is also a professor of pharmacognosy in the university's faculty of pharmacy, noted that Ghana came first because it had three important things in place, a Bachelor of Science in TMJ, a Bill of Traditional medicine advice understood by their doctors.
"I see no reason why Nigerians shouldn't come first as the giant of Africa, but looking at what drove Ghana to come first, this is what we can replicate in Nigeria." , did he declare.
WHO Representative Dr Kofi Boateng, EPI focal point, Universal Health Coverage (UHC), said the world is still battling the COVID-19 pandemic.
"WHO recognizes that traditional, complementary and alternative medicine has many advantages when properly used. Therefore, research on our traditional medicines is a step in the right direction.
"WHO Nigeria is committed to supporting the Ministry and in particular the Department of Traditional, Complementary and Alternative Medicine, complementary to the Traditional Medicine Policy Review 2007, the Nigerian Pharmacopoeia Review 2008 and the development of a five-year strategy. implementation plan for the new policy and revised pharmacopoeia.
WHO will continue to provide technical assistance to the TCAM department, the National Institute for Pharmaceutical Research and Development (NPRD) and NAFDAC to improve the quality of medicines and ensure the inclusion of these products on the national list of medicines. essential drugs.
Boateng added that WHO remains committed to continuing to support the government of Nigeria in its goal of achieving self-sufficiency in the local production of pharmaceuticals; including vaccines, traditional medicine and research.
YOU MUST NOT MISS THESE NIGERIAN TRIBUNE TITLES
We haven't had a water supply for months – Abeokuta residents
Despite the huge investment by government and international organizations in the water sector, water scarcity has become an eternal nightmare for the people of Abeokuta, the capital of Ogun State. This report x-rays the lives and experiences of residents getting clean, safe, and affordable water amid the upsurge in COVID-19 cases in the state.