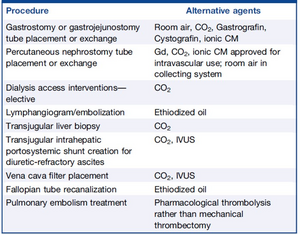 Philadelphia, June 22, 2022 – Supply chain disruptions have created critical shortages of Omnipaque (iohexol) and Visipaque (iodixanol), iodinated contrast agents used in imaging studies for the diagnosis and treatment of disease. GE Healthcare, the manufacturer, had to shut down their factory in Shanghai, China due to local COVID policies, disrupting 80% of their production. Writing in the flagship publication of the Society of Interventional Radiology, the Journal of Vascular and Interventional Radiology (JVIR), published by Elsevier, Investigators provide clinicians with guidance on alternative imaging methods for interventional radiology procedures and strategies for maintaining insufficient supply in an emergency.
"As interventionists, coping is central to our specialty, and this situation turned out to be no different," said lead author Nikki A. Keefe, MD, Department of Radiology, University of North Carolina North in Chapel Hill, North Carolina, USA, and its co-authors. "We developed an initial approach to case prioritization, and we also looked at short-term strategies for managing existing supply to maximize utility and minimize waste."
In response to this shortage, the American College of Radiology's (ACR) Committee on Drugs and Contrast Policy issued a guidance statement. Using these guidelines as a basis, Dr. Keefe and his co-authors offer a set of practical solutions to deal with the current situation.
The authors recommend creating a priority matrix covering the following categories: procedures requiring an iodinated contrast product versus procedures that can be postponed; those that can be performed with alternative imaging modalities such as intravascular ultrasound; and those that can be done with an alternative contrast medium. They stress the importance of creating harmonized leadership to oversee the use of contrast media across all departments at the institutional level. This would include both diagnostic and intervention teams, including non-radiological divisions that also use iodinated contrast.
Although case prioritization and the use of other contrast media may stretch the supply, many interventional radiology procedures will continue to require these agents. As part of centralizing the management of contrast media, Dr. Keefe and his co-authors recommend that a central pharmacy and inventory system be used to distribute the agents. At the point of care, multi-use valve equipment and dilution of contrast medium with saline solution may be appropriate and can expand supply and minimize waste.
Alternative contrast agents may be appropriate for some patients. With maximum dose recommendations, gadolinium (Gd) can be used in the vascular system even in patients with renal insufficiency. Carbon dioxide has been used as a safer alternative to iodinated contrast media in patients with renal dysfunction or allergy, although there are some associated risks. To prevent ischemia, doses should be spaced one to two minutes apart. While alternative contrast agents have limitations in defining the anatomy of large diameter vessels such as the aorta, digital image stacking can improve visualization.
For non-vascular gastrointestinal and genitourinary applications, alternatives are available. Gastrografin (diatrizoate meglumine, Bracco Diagnostic Inc.) for oral or rectal administration is a safe alternative for gastrointestinal access and catheter exchange procedures. Cystografin (meglumine diatrizoate, Bracco Diagnostic Inc.) by injection is a viable alternative for genitourinary access and procedures including nephrostomy and nephro-ureteral stent placement/exchange. Intravascular ultrasound has an established role in vascular procedures, and it can avoid the use of contrast media and reduce radiation exposure and procedure times. With proper training, clinicians can apply intravascular ultrasound for procedures such as inferior vena cava filter placement and transvenous biopsy.
GE Healthcare recently announced that it was able to reopen its Shanghai factory, but distribution issues and other supply chain issues may persist. "That being said," Dr. Keefe and his co-authors warned, "with China's zero COVID policy, a shutdown can unfortunately happen again, and it would be prudent to have a plan in place if shortages happen again." They suggest that some of the changes in practice and procedures that are being implemented as a result of this shortage could prove beneficial and permanent, adding that they can serve patients in the long term by minimizing both the burden of contrast medium and radiation exposure. "
"JVIR is built on methodical peer review of research and evidence-based medicine, but to serve our readership in this time of international emergency, rapid publication of practical educational material was warranted," said Daniel Sze, MD, PhD , editor-in-chief of JVIR.
---
Log
Journal of Vascular and Interventional Radiology
Research method
Commentary/editorial
Research subject
Not applicable
The title of the article
Mitigation Strategies for Interventional Radiology During a Global Shortage of Contrast Media
Disclaimer: AAAS and EurekAlert! are not responsible for the accuracy of press releases posted on EurekAlert! by contributing institutions or for the use of any information through the EurekAlert system.