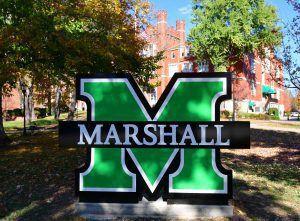 The immediate future of Marshall University is in the hands of Governor Jim Justice. Will he resist the temptation to remake the governance of the school to reward his friends, or will he take this opportunity to move Marshall forward in a way that would make his peers envious?
The answer will come in the coming months, as Justice holds the top three positions at Marshall.
President Jérôme Gilbert announced in April that he would not ask for his contract to be extended when it expires in a year. Former provost Jaime Taylor left to become president of Lamar University in Texas. The sporting director post has been vacant since Mike Hamrick decided to "step down" at the end of June and become the president's special assistant for facilities and fundraising.
How these positions are filled and who fills them will play an important role in Marshall's future.
In theory, justice will not be the one to make these decisions. It is the responsibility of the Board of Governors. But the governor appoints board members, and governors are known to leave their mark on state universities. Remember how then-Gov. Did Joe Manchin ask the University of West Virginia board of governors to appoint his friend Mike Garrison, who had no academic administrative experience, as president? It was a short-lived presidency that was – let's face it – a mistake.
Justice appoints the members of Marshall's Board of Governors, subject to the approval of the State Senate. The board of directors of a public university is a great place for the governor to reward friends and donors. It's not how it should be, but it is.
Gilbert became president of Marshall in January 2016, succeeding Stephen Kopp, who passed away suddenly. Under Gilbert, the university established the School of Aviation, which is expected to welcome students this fall, renovated the Memorial Student Center, built a new pharmacy school and graduate apartments along Hal Greer Boulevard, and began planning for the construction of a new College of Business. The long-awaited baseball stadium also gained momentum before the pandemic.
The university has received the prestigious designation of R2 Research Institution by the Carnegie Classification of Institutions of Higher Education in Gilbert. He also oversaw the addition of several high demand programs, such as biomedical engineering, aviation, medical assistants and specialty agriculture, as well as early insurance programs in the health professions.
Gilbert also navigated declining enrollments and state budget cuts.
Gilbert and Justice are oil and water. President Marshall is a seasoned engineer, scholar and administrator who plies political waters with few complaints from the public. This temperament suits the most senior administrator of a public university whose state support has not always been reliable.
The Governor, on the other hand, is someone who has inherited his wealth, speaks in a folkloric way that embarrasses some people, and sometimes relies on cringe-worthy stunts for attention. It's hard to imagine Gilbert standing in front of Marshall College and responding to their concerns by lifting the lid of a silver platter to reveal a pile of cow manure.
Reports were released in 2017 that shortly after Justice was elected in November 2016, he summoned Gilbert to The Greenbrier complex, where he told Gilbert to fire football coach Doc Holliday and take him on. replace with former trainer Bobby Pruett, a friend of Justice. It was an amateur's stroke. Gilbert refused. In March 2017, Justice approached five members of Marshall's Board of Governors and told them to fire Holliday, Gilbert and Hamrick. All four members refused. None of the five are currently on the board.
So, does justice want a yes in the president's office in Old Main? It would be a disaster for Marshall.
Clearly, Marshall's next president must be someone who can get along with justice and with the Republican-controlled legislature. It must also be someone who recognizes that college education is falling out of favor in a state where degrees don't always correlate with the ability to earn income. And it must be someone strong enough to resist the political pressures that come with the job.
The Board of Governors has announced plans to seek input from various groups in the Marshall community on what they want from the next president. To assume that justice will have no influence on the selection of Marshall's next president is naive and foolish. For everyone, justice may have already chosen who will be the next president. If so, these community meetings will just be charades.
No one outside of Justice's inner circle knows what his endgame is, assuming he has one. The Marshall community has its end game, however. He needs a strong president who will stand up for the university's interest in Charleston, who has the ideas and the willpower to do whatever it takes for Marshall to grow in terms of enrollments, financial stability and of prestige.
Directly or indirectly, Jim Justice will play a huge role in Marshall's immediate future. He needs to step away from politics and personal interests and consider what is in the best interest of the university, this region and the state as a whole as his appointees work to find a president. , a provost and a sports director.
Can he do that? For the good of the public, it must.