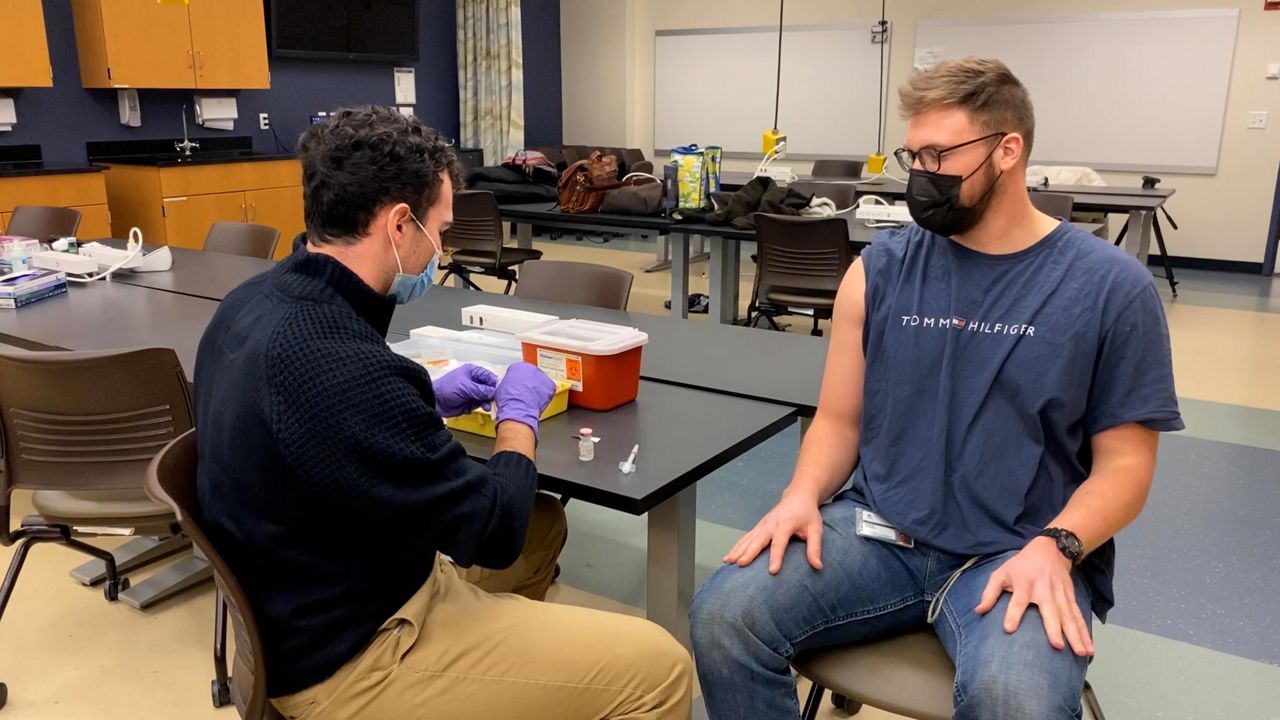 WAUWATOSA, Wisconsin — Wisconsin is now the eighth state in the country to recognize pharmacists as non-physician providers under a Medicaid system. With the passage of three pro-pharmacy bills last month, including Bill 98, pharmacists can help close the healthcare gap for Wisconsinians in underserved areas of the state.
"About 90% of Americans are within five miles of a pharmacy, so it's access right there," said Dr. George MacKinnon, founding dean and professor of pharmacy at the Medical College of Wisconsin.
MacKinnon added that two of Wisconsin's three counties are considered medically underserved, the majority of which are in the state's extreme urban and rural populations.
"The system we have right now is very cumbersome as it more than likely forces a patient to see a provider after being tested at a pharmacy," he said. "Why not simplify it and test and treat at the pharmacy?" "
Law 98 mandates grant pharmacists in Wisconsin "provider" status and reimburse them for Medicaid patient services.
"Historically, pharmacists were only reimbursed when they provided a product, but sometimes the most important thing isn't always around a product," MacKinnon said. "It could help a diabetic make better use of their meter. "
Keegan Morris, 22, is in his first year of pharmacy school at MCW. He wants to be a pharmacist in rural Wisconsin.
"Providing these services to them would be really rewarding for me," he said. "This new legislation helps us to actually function in these underserved communities where there may not be as many primary care physicians."
Under these new laws, doctors can now delegate work to pharmacists. This includes monitoring blood pressure, vaccination, or administering medication to patients for chronic illnesses.
"We can really establish ourselves in underserved communities and play a bigger role in giving them access to these services that they didn't have before," Morris said.
The other two pharmacy laws enacted by Governor Tony Evers in December are Bill 100 and Bill 101.
Read each piece of legislation in full below:
Senate Bill 255, now 2021 Wisconsin Act 98:
Requires the Department of Health Services to reimburse under the Medicaid program for services that are generally reimbursable under the program but that are provided by a pharmacist under their license or that are provided by a delegated pharmacist by doctor.
Senate Bill 300, now 2021 Wisconsin Act 100:
Requires pharmacy technicians to be registered by the pharmacy exam board;
Forbidden for any person to practice as a pharmacy technician or to use the title of "pharmacy technician" or "pharmacy technician" unless he is registered as a pharmacy technician by the Régie;
Require that the board promulgate rules to define the activities that constitute the practice of a pharmacy technician for the purposes of the registration requirement; and
Authorizes the council to promulgate emergency rules to implement the changes in the bill.
Senate Bill 308, now 2021 Wisconsin Act 101:
Updates current Wisconsin laws to align with Pharmacy Examining Board rules that allow remote distribution to locations that are not licensed as pharmacies; and
Specifies that free and charitable clinics, as well as treatment centers for drug addiction to narcotics or opiates, will not be affected by this legislation.