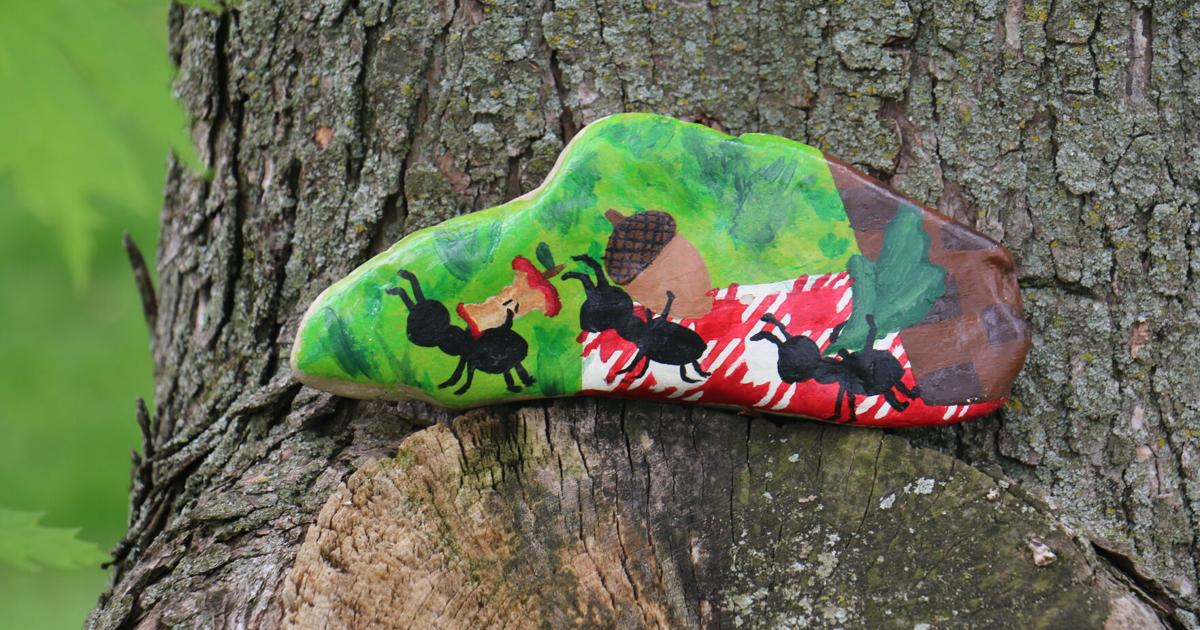 Although it didn't go on all summer as planned due to a theft, an event combining nature and art at Anderson Farm County Park in May was still "overall a success", a declared its organizer to the Observer.
Oregon City resident Jann Kalscheur has always had a deep connection to the wooded park at 914 Union Road, which borders her backyard. In April 2021, in honor of the passing of her husband and Oregon Youth Baseball founder, Gary, Kalscheur funded the design and installation of a metal sculpture along the Anderson Park bike path.
"I really like this park," Kalscheur said. "Anderson Park Friends is great. It's small, but takes a healthy and thriving family park seriously. It is a newer park. It's on the map because of the dog park. People are delighted with the cycle path. It's not just about plants and animals, but also about activities that public parks promote. The group of friends work hard to make it a family park.
She said she also loves seeing art in parks, which is why she decided to host the first annual ABC Rock Scavenger Hunt in May.
"My goal is to promote nature and art and show how therapeutic they are when we introduce them into our lives," Kalscheur said. "I want children to be connected to nature, in a wild environment, with fresh air, birds and bees, enjoying art."
Leveraging connections in the area, she enlisted the skills of 20 artists from Wisconsin communities including Brooklyn, Cross Plains, Fitchburg, Madison, Milwaukee, Oregon, Prairie du Sac, Stoughton, Sun Prairie, Waunakee – and even locals. artists from Washington and Texas.
Kalscheur previously taught English at Stoughton High School and was able to call on a former colleague and art teacher, Ruth Phillips, to help with recruitment.
She was also helped by representatives of the organization 14 South Artists, Inc. Some artists also came by word of mouth. Planning had been underway for about a year, Kalscheur said.
The artists were tasked with creating alphabet rocks, letters from A to Z. At one point she was worried about having enough artists, but in the end, with a few duplicates, there were 34 rocks in everything, and all the letters were artistically represented.
All artists gave generously of their time and talent and received no compensation for their work.
"No money was involved, it was all from the kindness of their hearts," Kalscheur said. "I gave them the stones, they provided non-stone supplies and did all the painting."
The intent was to scatter these rocks around Anderson Park trails, for people to search for all summer long. However, after several boulders disappeared, the rest were removed for the season. Kalscheur is undeterred and plans to try the activity again next year, but must think of a way to anchor or secure the rocks in place.
"I don't want to make it negative," she told the Observer. "I don't want to give it up."
Most of the rocks represented activities or animals associated with Wisconsin. Many were also alliteration or assonance. There was a badger riding a bike, a moose eating maple syrup, and a skunk in a sailboat.
Although some letters were less easy to relate to Wisconsin, such as the letter U being represented by a unicorn. But there were always other ties to the state, like this whimsical unicorn painted by an Oregon High School grad who is now majoring in art at the University of Wisconsin-Milwaukee.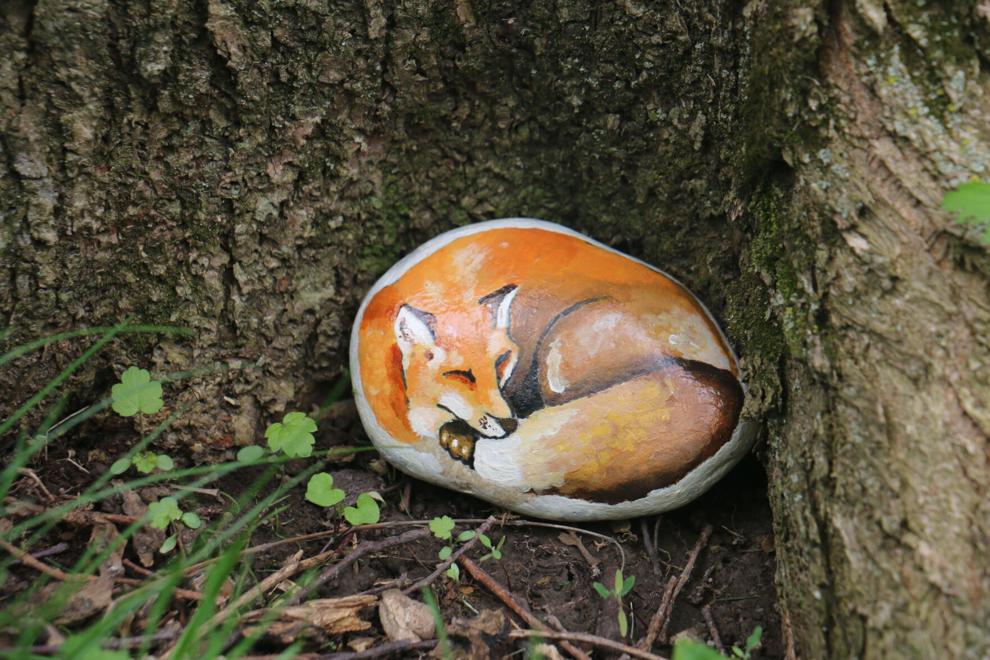 Although originally aimed more at children, Kalscheur promoted the event as being for all ages.
Originally, she planned to just get the stones out, but one of her sons convinced her to have a launch event as well.
A special ABC Rock Hunt launch event was held on May 6 at the park with over 100 people in attendance.
"For the first year of the event, I thought it was a good performance," Kalscheur said. "Hopefully it's an annual event."
Area businesses donated prizes, time and money to help defray the costs of the event.
There was a walking meditation led by Wishing Tree Yoga Studio. JL Richards Prime Meats served BBQ pork. Prizes were given away, such as bird feeders, flower seeds, a nature-themed gift basket from Hometown Pharmacy, a Kopke's Greenhouse gift card, a floral hanging basket from Fitchburg Farms, and doorbells. bike bags, mirrors and water bottles donated by Budget Bicycle Center in Madison.
Smaller painted rocks were also offered as prizes.
The library purchased two copies of the book "Rhoda's Rock Hunt", which Kalscheur specifically requested for a history walk.
Thysse donated several hundred dollars in printing costs for posters to be put up at area businesses and flyers to be sent home with every elementary school student in the Oregon school district.
"I reached out to all of these companies and was overwhelmed with the generosity," Kalscheur said. "We ended up getting so many businesses and artists involved and sharing their love of art and the community we live in and promoting family activities and they were thrilled."
To give back, she plans to auction off this year's rocks to donate funds to the park.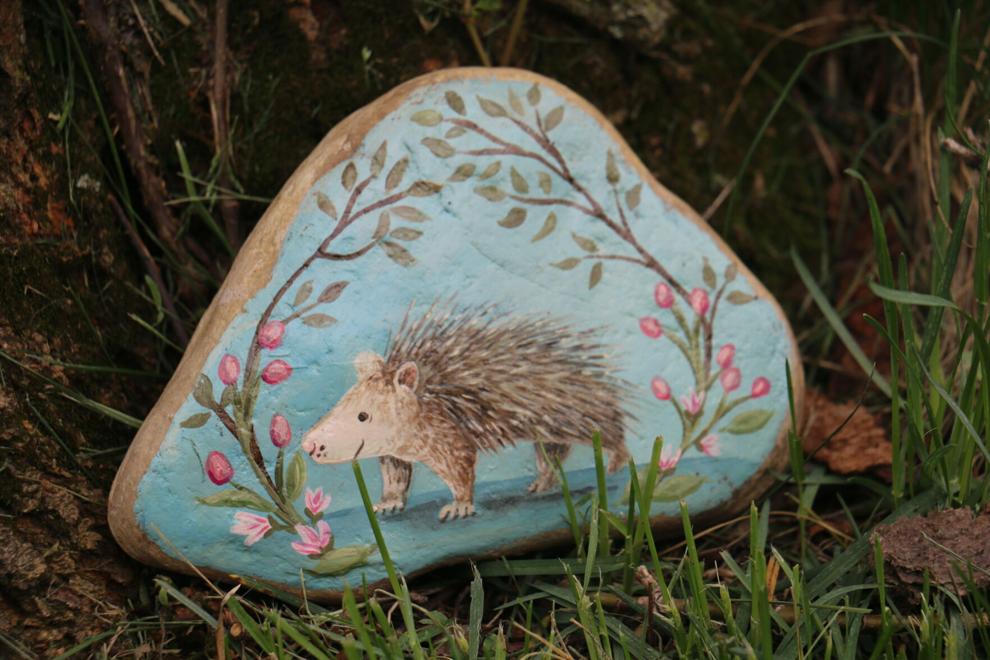 Kalscheur has long had a creative connection with the great outdoors and has turned his passion for nature photography into his own art form.
She co-wrote with her sister and took the pictures for the 2003 children's book "ABCs Naturally: A Child's Guide to the Alphabet Through Nature."
She also previously ran a business with her sister called Wild Alphabet where she took photos of elements of nature – branches, vines, leaves, flowers – that looked like letters – and customers could stitch together and frame names or words. with its natural representations of letters.
Kalscheur's idea was inspired in part by another recent art project she helped bring to Anderson Park – the Fairy Gates. She was one of three members of the Anderson Park Friends group who planned and coordinated a project that placed 13 "gates" for mythical beings throughout the park in April. It was while doing research for this project and having fun finding them with her granddaughter that she came up with the idea of ​​organizing an A to Z type treasure hunt, which then became rocks .
She's already thinking about next year and now she's trying to come up with a plan to make the rocks less walkable, maybe just by having bigger rocks. She is also looking to recruit more artists and said if anyone would like to have their art in the park, she encourages them to contact her.
"It's interesting how my brain goes right to next year, 'how can I improve on this?' my brain is there," Kalscheur said. "One thing I need is a committee, with more voices. There's a lot to think about. I need more people involved. in the process.
"People love art," she added. "I love tapping into creative energy and sharing it and bringing smiles."